Prime for Students Sign Up Guide – Introduction
Amazon Prime is a household name known for its fast shipping, vast entertainment library, and exclusive deals. But did you know that there's a special version of Amazon Prime designed just for students? It's called "Prime for Students," and it offers a range of perks tailored to the needs and budget of students. This comprehensive guide will walk you through the Prime for Students sign-up process and explore the benefits you can use as a student Prime member.
Why Prime for Students?
Before we dive into the sign-up process, let's understand why Prime for Students is such a fantastic choice for students:
Affordable Pricing: Prime for Students offers a significantly discounted membership fee compared to the standard Amazon Prime subscription, making it budget-friendly for students.
Exclusive Deals: Student members can access exclusive discounts, offers, and promotions on various products, including textbooks, electronics, and more.
Prime Video: Enjoy unlimited streaming of movies, TV shows, and Amazon Originals on Prime Video. Perfect for downtime between classes!
Amazon Music: Stream over two million songs ad-free with Amazon Music and get discounts on a full Amazon Music Unlimited subscription.
Prime Reading: Access a rotating selection of eBooks, magazines, comics, and more through Prime Reading.
Fast and Free Shipping: Get free two-day shipping on eligible purchases, which is incredibly convenient for ordering textbooks, supplies, and other essentials.
Twitch Prime: Enjoy in-game loot, free monthly channel subscriptions on Twitch, and other gaming perks with a Twitch Prime membership.
Amazon Photos: Store unlimited photos with Amazon Photos, a great way to keep memories safe and organized.
Now that you know the advantages, let's begin the sign-up process.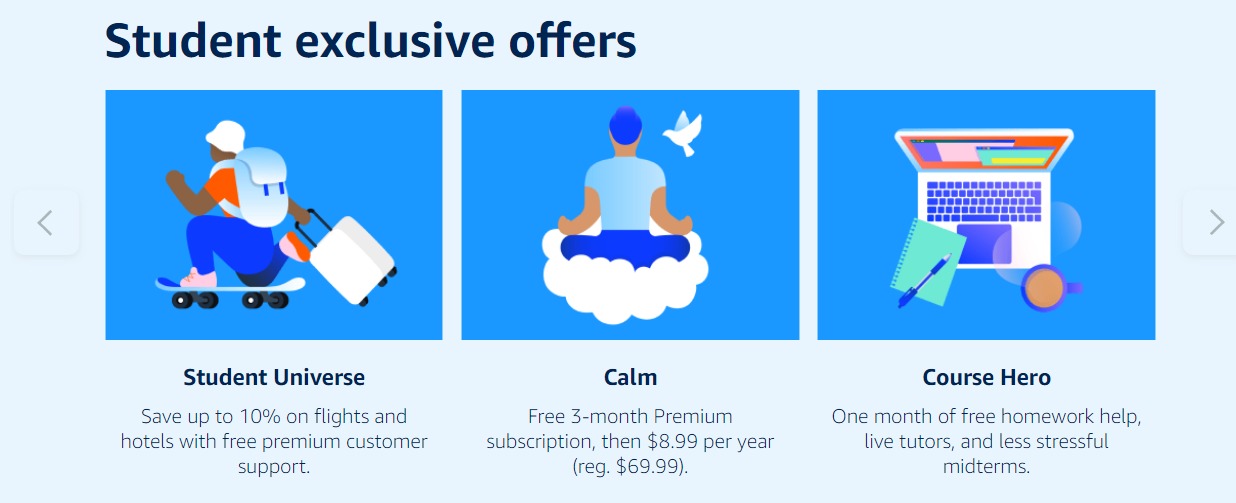 Signing Up for Prime for Students: Step-by-Step
Follow the below steps to sign up for Prime for Students:
1. Eligibility Check:
Before you begin, ensure you meet the eligibility criteria. To be eligible for Prime for Students, you must:
Be a college or university student actively enrolled in at least one course.
Have a valid .edu email address.
2. Visit the Prime for Students Page:
Go to the Amazon Prime for Students page. You can find this page by searching "Prime for Students" on the Amazon website or through a search engine.
3. Click "Sign Up for Prime Student":
On the Prime for Students page, click the "Sign Up for Prime Student" button to start the sign-up process.
4. Login or Create an Amazon Account:
You'll be prompted to log in to your existing Amazon account or create a new Amazon. If you don't have an Amazon account, you must provide your name, email address, and a secure password.
5. Provide Your University Information:
Enter your university information, including your school's name and expected graduation year.
6. Verify Your .edu Email Address:
To verify your eligibility, Amazon will email your .edu email address. Click the verification link in the email to complete the process.
7. Choose Your Payment Method:
Next, select your preferred payment method. You can use a credit card, debit card, or other eligible payment methods.
8. Confirm Your Student Status:
To confirm your student status, you may be asked to provide proof of enrollment, such as a class schedule or a transcript. Follow the instructions provided during the sign-up process.
9. Start Enjoying Prime for Students:
Once your student status is verified, you'll become a Prime for Students member and gain access to all the benefits.
Benefits of Prime for Students:
Now that you're a member, here's a closer look at the benefits you can enjoy:
Prime Video: Stream thousands of popular movies and TV shows.
Prime Music: Listen to over two million songs ad-free and get discounts on Amazon Music Unlimited.
Prime Reading: Borrow eBooks, magazines, and more from the Prime Reading catalog.
Exclusive Deals: Access student-exclusive deals and discounts on various products.
Free Two-Day Shipping: Get fast, free shipping on eligible orders.
Twitch Prime: Enjoy gaming perks on Twitch, including in-game loot and free monthly channel subscriptions.
Amazon Photos: Store and organize unlimited photos with Amazon Photos.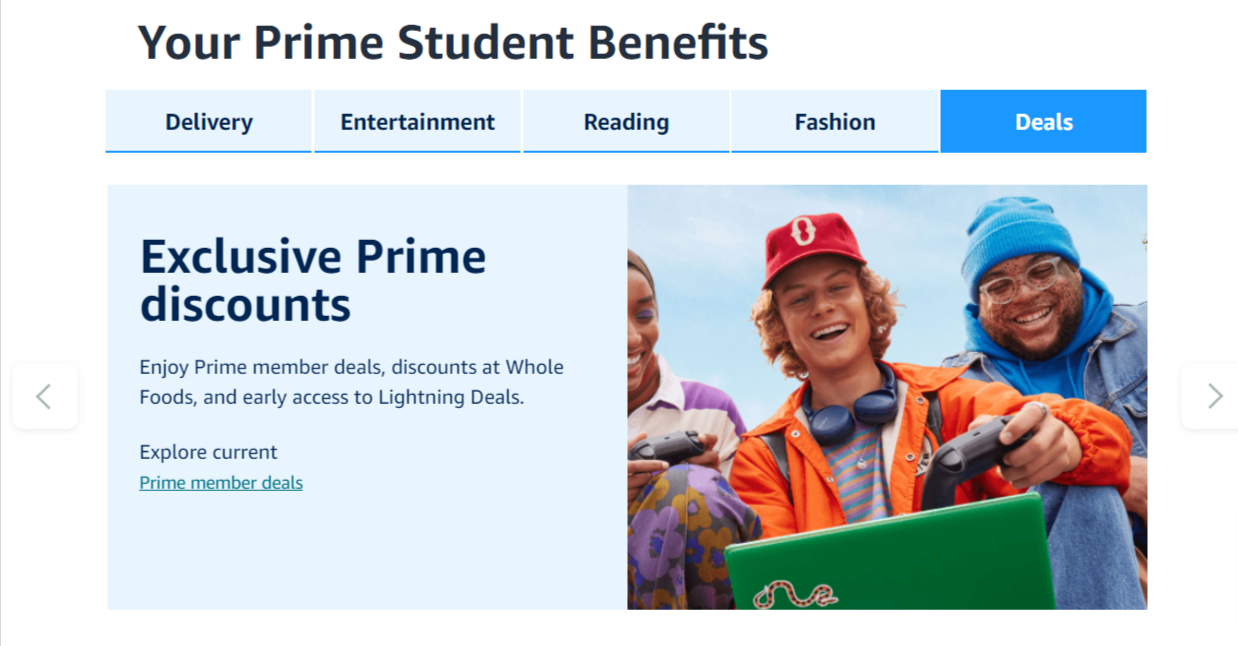 ---
Last update was on: 14 October 2023 10:32
Conclusion:
Signing up for Prime for Students is a smart choice for students looking to save money, enjoy entertainment, and make their lives more convenient. With this step-by-step guide, you can easily navigate the sign-up process and enjoy Prime for Students' benefits today. Whether you need textbooks, entertainment, or fast shipping, Prime for Students has you covered. Sign up and unlock a world of savings and convenience tailored to the student lifestyle.